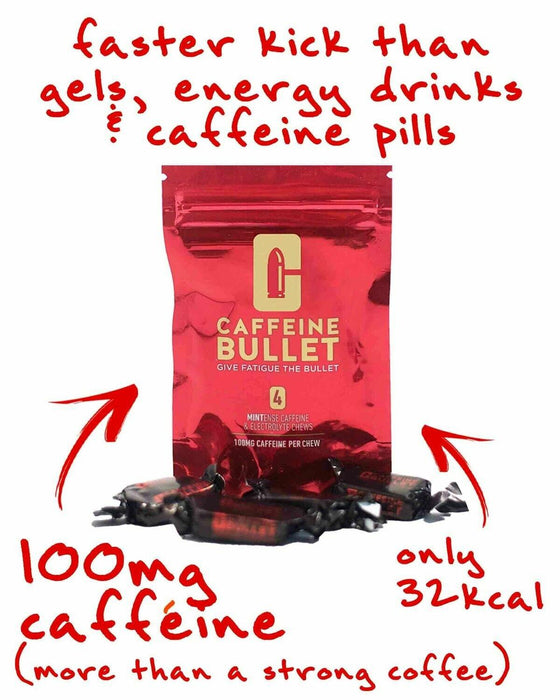 4 Pack - Caffeine Bullets Mint
Save

$0.00
Save

$-5.00
Original price
$5.00
-
Original price
$5.00
CAFFEINE BULLET - MINT 

If you struggle to stay awake on your Piquet, or just find work is pulling you down, the chomp on a Bullet.
1 Bullet is as strong as a cup of C4 and is packed with electrolytes - (SCIENCE STUFF) to give you that pick-up you need.
Caffeine Bullets increase your endurance and mental alertness.
So many applications for these, great for Battle PT, Pre-Gym workouts, Mid Race marathons out field NO DOZE 
Each Mint Caffeine Chew contains 100mg of caffeine (a strong cup of coffee) and kicks faster than energy gels, energy drinks, or caffeine pills so you can perform better and train harder for longer.
Ingredients:
Glucose Syrup, Sugar, Water, Vegetable Oil, Electrolytes (Sodium Chloride, Potassium Sulphate, Calcium Hydrogen Phosphate, Magnesium Oxide), Caffeine, Egg White Powder, Spearmint Oil
Nutritional information:
Per 100g (7g), Energy: 1661kj / 392kcal (116kjl / 27.5kcal), Fat: 4.8g (0.3g), of which saturates: 3.4g (0.2g), Carbohydrate: 86.9g (6.1g), of which sugars: 53.1g (3.7g), Fibre: 0.00g (0.00g), Protein: 0.19g (0.01g), Salt: 1.85g (0.13g), Caffeine: 1.43g (0.10g), Electrolytes: 1.85g (0.13g).